We love our work, although we must admit that it's sometimes a bit hard. Being a professional translator in a translation agency requires high levels of project understanding and empathy with the manager giving the instructions. Sometimes even love blooms 😉 Today we will take a humorous look at the most frequent types of translators in the small world of professional translation.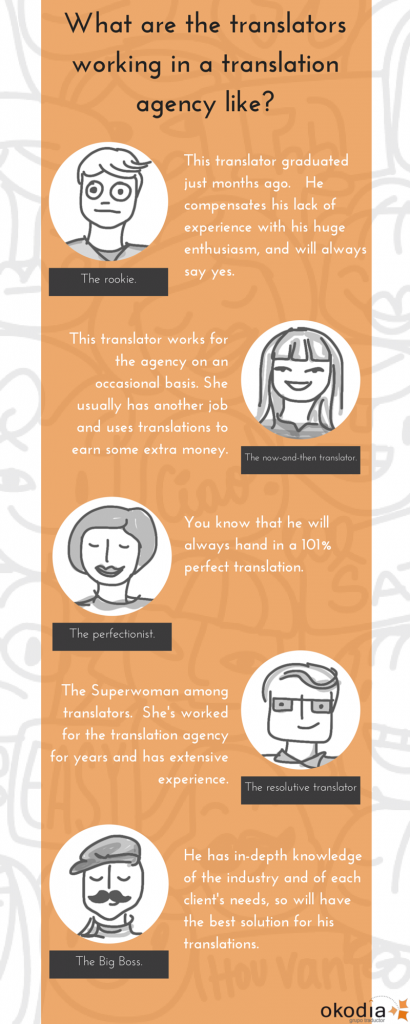 The rookie.
This translator graduated just months ago. He wants to conquer the world, and is dying to work and be hired. He compensates his lack of experience with his huge enthusiasm, and will always say yes. Of course, you'll have to supervise and proofread his translation very carefully, but he'll meet the deadlines and you'll be super happy with his work.
The now-and-then translator.
This translator works for the agency on an occasional basis. She usually has another job and uses translations to earn some extra money. She is usually requested for her knowledge of a specific field. She usually accepts few projects, whatever she can deal with, and is relaxed about deadlines. She will always do a great work, given that, as we said, she is selective about what she is passionate about.
The perfectionist.
He's a great professional, necessary for the agency to operate. You know that he will always hand in a 101% perfect translation. You have full faith in him. He will help you to improve on the original and will have good ideas to improve the final result. His perfectionism means that there he will always proofread his translation just one more time, which will lead him to hand in his translation at the eleventh hour. But his results are worth it.
The resolutive translator.
The Superwoman among translators. She's worked for the translation agency for years and has extensive experience, so always anticipates problems. She has in-depth knowledge of old clients. She is able to spot a hitch before it appears, and will always give you a good solution.
The Big Boss.
He knows the "old" clients and has direct relationships with them – they are practically friends! He has in-depth knowledge of the industry and of each client's needs, so will have the best solution for his translations. Moreover, he is an orchestra conductor: he knows the status of the project and what each member of the team should do. He knows how to motivate them so that they give their best. That's why he's the big boss.
So, what kind of translator are you? Do you miss any categories?